Welcome to Preventistry®!
Advantage Dental is revolutionizing oral health for everyone by redefining prevention and care. A more effective health care system requires a revolution in oral health care and Advantage Dental and affiliated practices are leading the way. Advantage Dental affiliated practices include Community Dental of Kentucky and Community Dental Care of Texas.
A revolution requires us to reach beyond the dental chair to reshape the oral health system. We address full-body health and its relationship with social and cultural determinates by expanding access to care, the affordability of care and implementing a greater focus on timely prevention of dental disease, rather than intervention.
We are dedicated and driven by our mission: To improve the oral health of all. We harness our unique reach and insights to provide patients with better care, timely education, greater access, innovative solutions, and transformative system change. We call this industry leading approach to dentistry – Preventistry ®.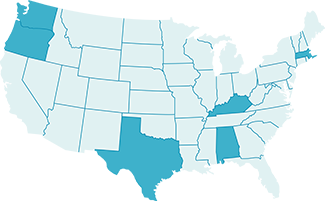 Our Locations
Advantage Dental's care delivery team is made up of 200 providers, throughout 80 practices across six states, with more than 700 support employees providing care to over a quarter of a million patients annually.
Company Commitments
Transformative change
We use our unique expertise and visibility to drive impactful change in the name of prevention and see it through – across policy, financing, care, and the community
Measurable outcomes
We are adaptive and efficient, testing and trialing to create solutions that meet clear goals and deliver meaningful outcomes
People with purpose
We have the clarity of purpose, passion and perseverance to navigate all of the factors that influence oral health and drive real and ongoing progress
One connected community
We connect oral health leaders and the broader health community, so together we can chart a clear path towards better overall health through oral health
What We Do
Focus on patient care
Prioritize patient needs to achieve lasting oral health while practice and support staff focus on day-to-day businesses duties
Measure success in smiles
Deliver quality care, healthy outcomes and meaningful patient experiences and get rewarded for the value of care provided, not volume.
Be a part of something greater than yourself
Join a team making an impact that reaches beyond the dental chair and into the community while gaining access to industry resources developed to foster personal and professional growth.
Become an industry leader
Drive change that contributes to a more effective health care system through research and innovative, future-focused solutions.
Benefits
Medical

Dental

Retirement Plans

Paid Time Off

Life and Disability Insurance

Professional Liability Insurance
Preventistry® is about transforming oral health in fundamental ways by:
Care: Moving to better and prevention-focused care that goes beyond the dental chair and into communities
Value: Expanding access by promotion of health equity and paying providers for value over volume
Innovation: Investing in future-focused solutions like advancing medical/dental integration for a more integrated health experience
Transformation: Building powerful partnerships and collaborating to achieve quality oral health care and measurably healthier communities
Making an Impact
We are making an impact in the communities we serve by increasing access to dental care services and awareness of the importance of oral health in areas where people might not otherwise have access. To do this, we operate programs such as teledentistry, the MORE Program, and community outreach services.
Through our Community Outreach programs alone, providers and employees spent over 34,000 hours in 56 counties, providing care outside of the dental practice setting. We provided preventive screenings to approximately 29,000 students from 441 different schools, totaling nearly 1.5 million dollars in donated care during 2019.
We are dedicated to our mission and we are driving positive, lasting change in the communities that need it most.